OXJAM BEESTON MUSIC FESTIVAL 2021, 21:00–21:50 Miss Bowie and the New Killer Stars at THE COMMERCIAL INN
Tell us how crowded the venue is! Write a comment or post an image about this concert
We are a 6-piece live band playing the music of David Bowie. We aren't a tribute that attempts to copy David's stage persona or his voice (near impossible with a female singer with a distinctive voice), rather, we try to do his songs justice with guitar and sax focussed arrangements, powerful vocals and harmonies, and a passionate authentic performance. We just love sharing his music with other people.
You can watch Miss Bowie and The New Killer Stars' video set here:
https://www.facebook.com/colin.tucker.395/videos/10218299215215177/
Loading venue map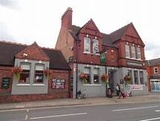 19 Wollaton Road, Beeston, NG9 2NG
from your current location
At The Commercial Inn we take the drinks we serve very seriously. Our friendly team will go out of their way to find the best drink for your food and your mood. Ready to discover your happy hour?​
Under 18s are welcome until 9.30pm as long as accompanied by an adult.