Tell us how crowded the venue is! Write a comment or post an image about this concert
Stale, bland, processed, pop ate itself years ago. The Outriders reject McDonalds music to take you back to the future. Tim, Tass and Chester invoke the spirit of Elvis, Scotty and Bill playing their favourite songs in their own inimitable style, regardless of original genre or date and with an adrenalin rush of energy. Reaching deep into the annals of pop, the Outriders bring three minute wonders blinking wondrously back into the daylight. Covers but not copies.
Loading venue map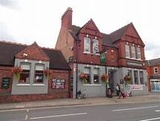 19 Wollaton Road, Beeston, NG9 2NG
from your current location
At The Commercial Inn we take the drinks we serve very seriously. Our friendly team will go out of their way to find the best drink for your food and your mood. Ready to discover your happy hour?​
Under 18s are welcome until 9.30pm as long as accompanied by an adult.