Tell us how crowded the venue is! Write a comment or post an image about this concert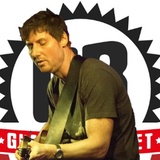 Paul J Roberts is a songwriter and musician from Leicester, UK. He currently performs as a Solo-Acoustic act, playing both original material and cover songs to suit the vibe.

He has been writing songs for many years, and has now amassed a huge back-catalogue of work spanning genres including mainstream rock, indie rock, and EDM. Paul's influences and inspirations include the likes of Bowie, The Cure, Suede, and Pixies.

Paul writes, records and produces all of his own music, and the music of others, working out of his home studio.‹ As a performer, Paul is gigging constantly, and has supported the likes of The Frank and Walters, Tony Wright (Terrorvision), and Mark Morriss (Bluetones).
Loading venue map
66 High Road, Beeston, Nottingham, NG9 2LF
from your current location
Small, independent restaurant in Beeston serving up tasty breakfast, lunch and evening meals.
We've got a real focus on using simple, fresh ingredients, always sourced as locally as possible.
Under 18s are welcome as long as accompanied by an adult.