Tell us how crowded the venue is! Write a comment or post an image about this concert
We are father and daughter and we have a shared passion for poetry and prose but have very different styles and interests. Not exactly a dual, but we propose to take turns in reading individual pieces across a range of subjects we both feel strongly about.( life, death, mental health, politics, love, and the whole human drama).
Loading venue map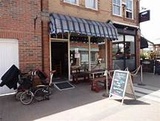 1 Stoney St, Beeston, Nottinghamshire, NG9 2LA
from your current location
A small, friendly micropub devoted to real ales and ciders and good conversation!
Under 18s are welcome until 8pm as long as accompanied by an adult.