Tell us how crowded the venue is! Write a comment or post an image about this concert
Scriptures are an atmospheric rock band, showcasing haunting operatic vocals entwined with shimmering melodies and heavy progressive riffs. This, all tied together with a common thread of genres - post-rock, Shoegaze, Goth, Prog and Indie all get an airing, sometimes all at once!

The band has performed across various venues in the Midlands and beyond, with increasing volume and intensity since the release of there second album "Lucid" in 2017. The band was privileged to be able to play on the main stage of the final Macmillan Fest in Nottingham in 2019.

After releasing new singles last year and surviving many lockdowns, the band are now gearing up to release their third album later in the year. Their latest singles: 'We Are Creators' and 'Red Agony' sees every aspect of there unique sound expanded, magnified and amplified.

"The name Scriptures is a word for stories, and the stories we create in our songs are the Scriptures we leave behind."
Loading venue map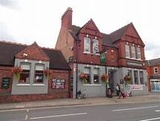 19 Wollaton Road, Beeston, NG9 2NG
from your current location
At The Commercial Inn we take the drinks we serve very seriously. Our friendly team will go out of their way to find the best drink for your food and your mood. Ready to discover your happy hour?​
Under 18s are welcome until 9.30pm as long as accompanied by an adult.