Tell us how crowded the venue is! Write a comment or post an image about this concert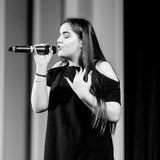 Lowri FFion is a young local artist who enjoys playing anything from the Beatles and elvis to more modern music at festivals, pubs and shows across the country.
Loading venue map
Inham Nook Recreation Ground, Beeston, Nottingham NG9 4GR
from your current location
The Broxtowe Green Festival takes place on Oxjam Day and is a great way to find out how we can stop the climate emergency. There will be lots of interactive stalls about what people are doing locally to tackle climate change and protect our green spaces. Learn from leading experts about Recycling, Composting, Climate Change, Wild flowers, Biodiversity and so much more! The event is free and located right next to the tram stop, so no need to bring your car. It's the perfect event to walk or cycle to.
The event takes place on Inham Nook Recreation Ground, Chilwell, Nottingham NG9 4GR from 12pm - 3pm.