The Bagatelles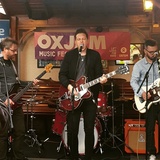 Derbyshire based band The Bagatelles takes its cues from indie rock reminiscent of The Strokes and The Libertines, with nods to artists past and present. Regardless of comparisons, the band has developed their own sound and has received airplay from BBC Introducing and BBC 6 Music.

The band formed in Belper having played for a couple of months with a different singer, playing different songs and a different name. When the singer decided to call it quits, Jon announced he had a couple of tunes knocking about. So along with guitarist, Tom and bassist, Richard, The Bagatelles was formed. The band played it's first gig in April 2018 to a full house in Matlock, Derbyshire. A DIY EP followed in December, with 'Romantic Resignation' receiving considerable airplay on radio stations around the world.

Storming energetic sets have been one of the keys to The Bagatelles success thus far. Having built up a cult following in and around the East Midlands, the band have travelled nationwide and seized headlines wherever they have played, The Bagatelles continue to go from strength to strength.
1 past concert